[Warning: Potentially Triggering Content]
An ex-girlfriend of Jonah Hill has come forward about the emotional abuse she suffered throughout their relationship.
Sarah Brady took to Instagram Stories on Friday to open up about her romance with the 39-year-old actor, and she did not hold back, accusing him of being a "narcissist," "misogynist," and all-around toxic partner. And the 25-year-old brought out the receipts to back up her claims!
The drama started on Thursday when Sarah dropped a black-and-white photo of herself, along with the caption that said she was "reviving a pic I took down by request of a misogynist narcissist." She didn't name who this "misogynist narcissist" person was at the time. However, the surfer later revealed their identity when she liked a comment that read:
"I just want to say… that the type of man Jonah is, some of us think we can 'save' them in the sense that we can show them how worthy of love they are and outdo all of the trauma and harm in their life that caused them to be so insecure."
Related: Keke Palmer's Boyfriend SCRUBS Her From IG Amid Outfit-Shaming Backlash!

Naturally, many determined that she was referring to Jonah as the ex who made her take this picture down. Instead of leaving it at that, Sarah decided to tell her story. She went on to drop a bunch of text message exchanges with Jonah from 2021 on the IG Stories, a lot of which showed how he was often upset about her posting pictures of herself on social media in a bathing suit or hanging out with male friends. She first wrote:
"This is a warning to all girls. If your partner is talking to you like this, make an exit plan. Call me if you need an ear."
In the texts, Jonah allegedly asked her to remove any surfing photos from her social media that featured her "a** in a thong" — even though she wasn't wearing one. After she deleted "all the posts," he told her it was a "good start" but she still doesn't "seem to get" the point, adding:
"But it's not my place to teach you. I've made my boundaries clear. "You refuse to let go of some of them and you've made that clear and I hope it makes you happy."
You can see it (below):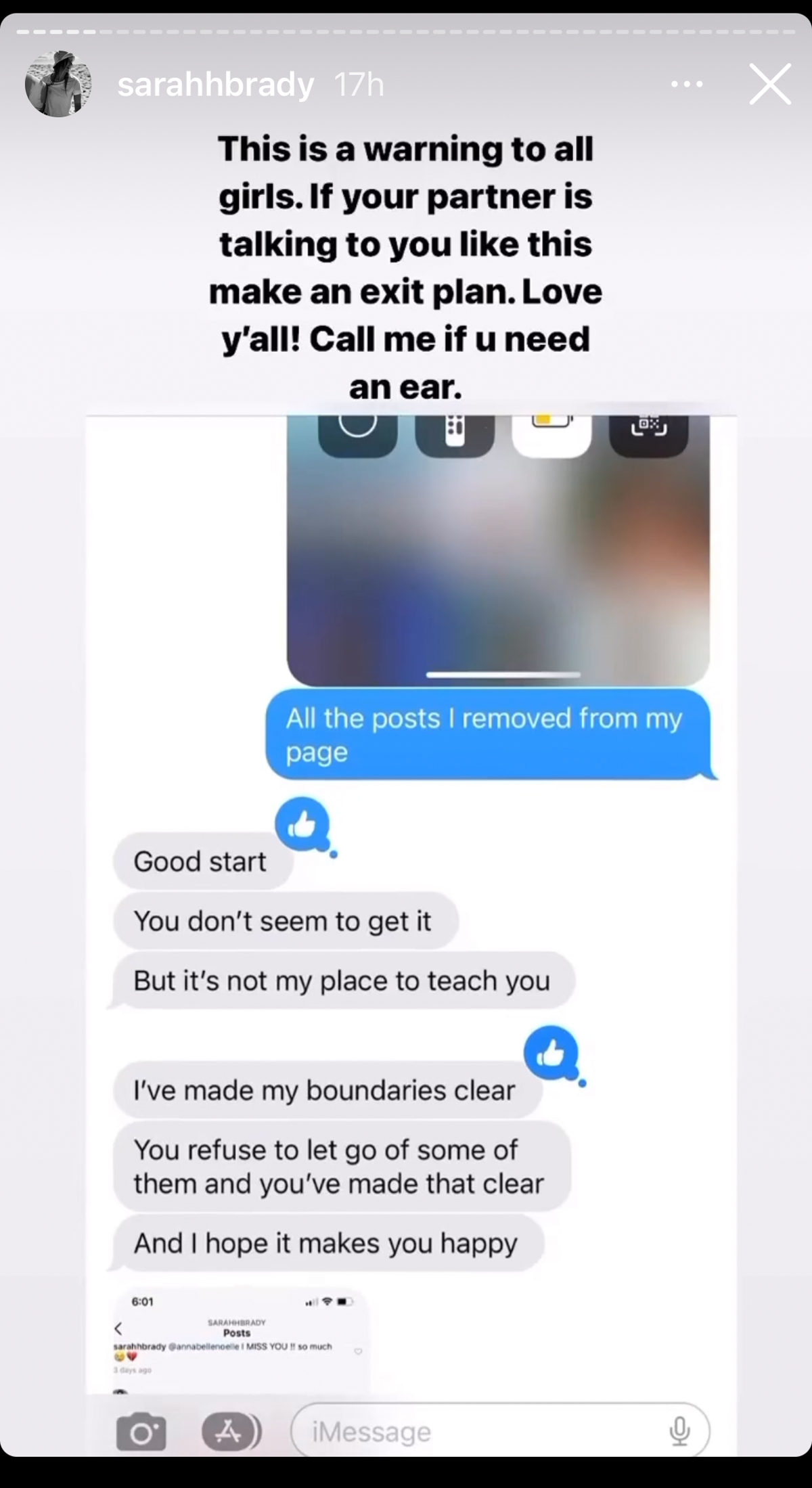 Sarah went on to share another alleged text message from Jonah, in which he told her she lacked "boundaries." He even told her that if she chose to surf "with men," "to model," "to post pictures of yourself in a bathing suit," "to post sexual pictures," and "have friendships with women who are in unstable places and from your wild recent past," then he was not the right boyfriend for her. Seriously?! That is messed up. See the receipt (below):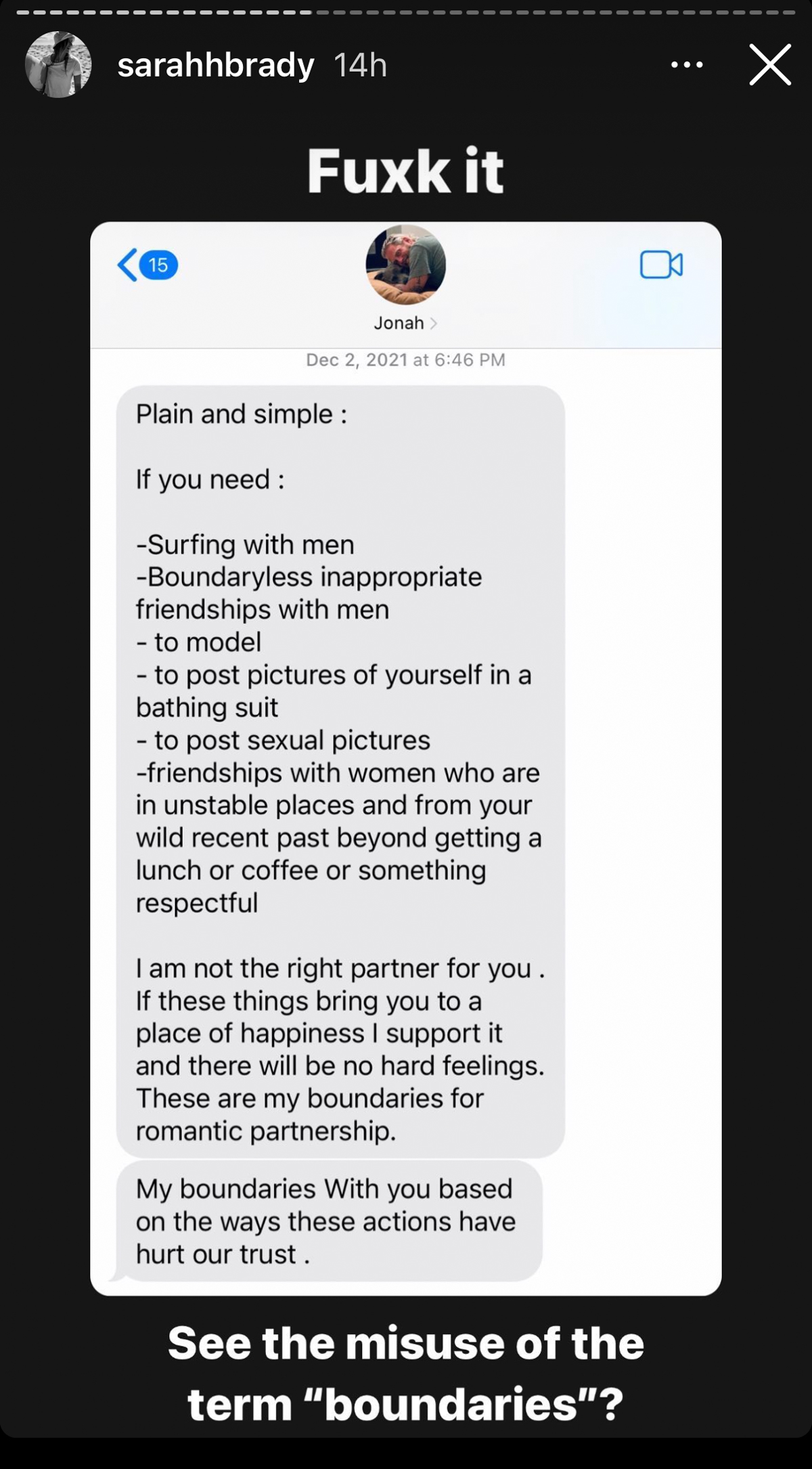 Interestingly enough, Sarah shared that he used to send her flirty comments on her surf pictures – before they became an item. However, that all changed once their relationship started in 2021, and he started to make these kinds of comments, which says were in an effort to manipulate her. See (below):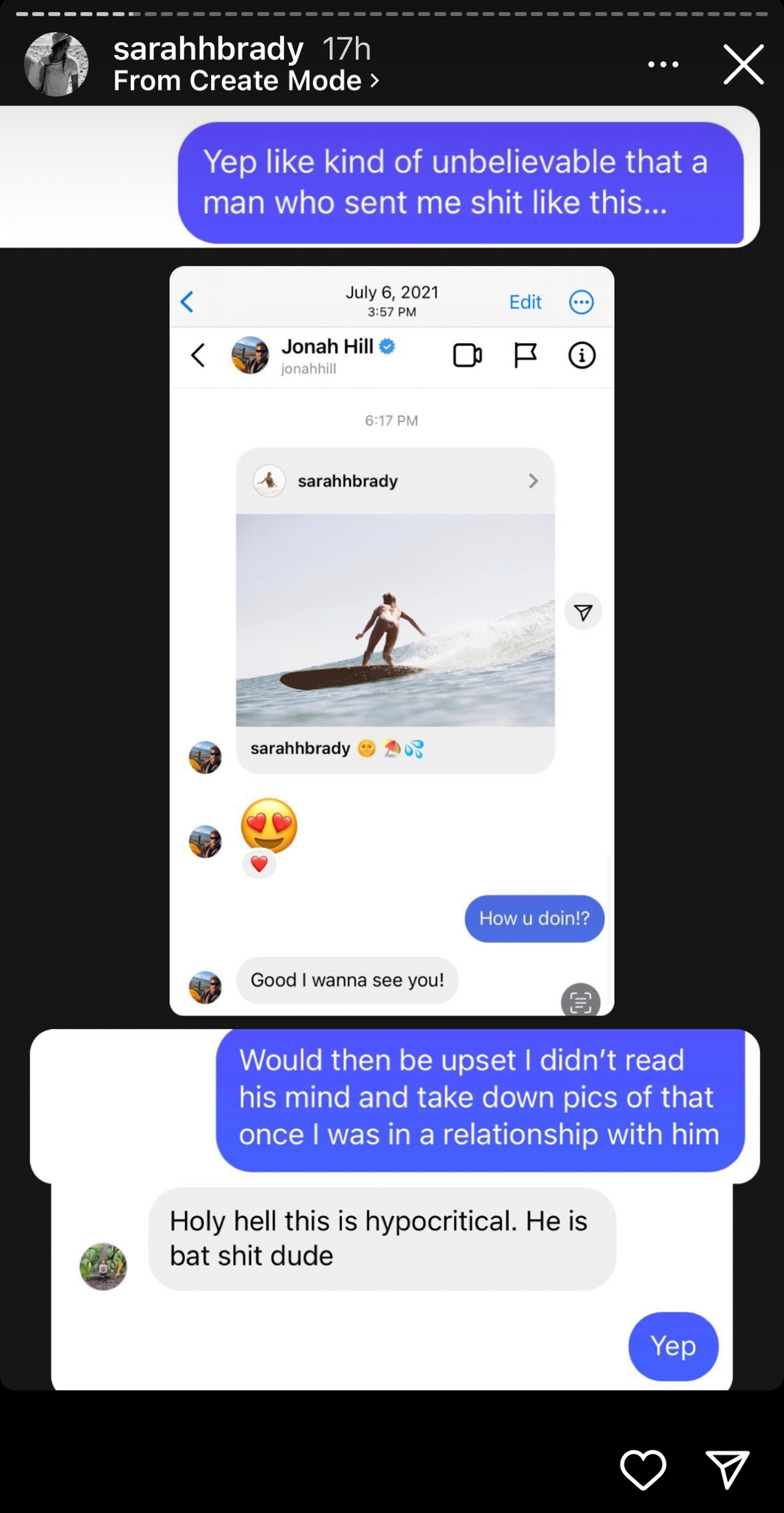 Why did she comply with his requests? Sarah explained that she did so in an attempt to "protect" him from "crippling anxiety." She also noted that she often "took blame" for him and his actions.
And as for why she's sharing this now? Sarah explained that she dropped these messages "because keeping it to myself was causing more damage to my mental health than sharing it could ever do." She also pointed out that "someone being an emotionally abusive partner doesn't mean they're a terrible person" and that it "often stems from their own trauma." But Sarah also noted that "at the same time, it doesn't mean it's OK."
The digs from Sarah didn't end there. She added in another slide she hoped Jonah had a daughter with his current partner Olivia Millar so that perhaps he'll actually turn into a "feminist":
"I hope my ex has a daughter, maybe she'll turn him into a real feminist. Because the fact that he calls himself a feminist now is laughable. … If I could have one wish for him it would be that he is surrounded by feminist men who can hold him accountable to grow in the ways he has expressed he wants to. I think fame can put people in an echo chamber of viewpoints, which can enable emotionally abusive behavior.
There was a lot posted on her Instagram! But basically, she detailed how controlling and manipulative Jonah allegedly had been during their entire relationship. You can more of the receipts from Sarah (below):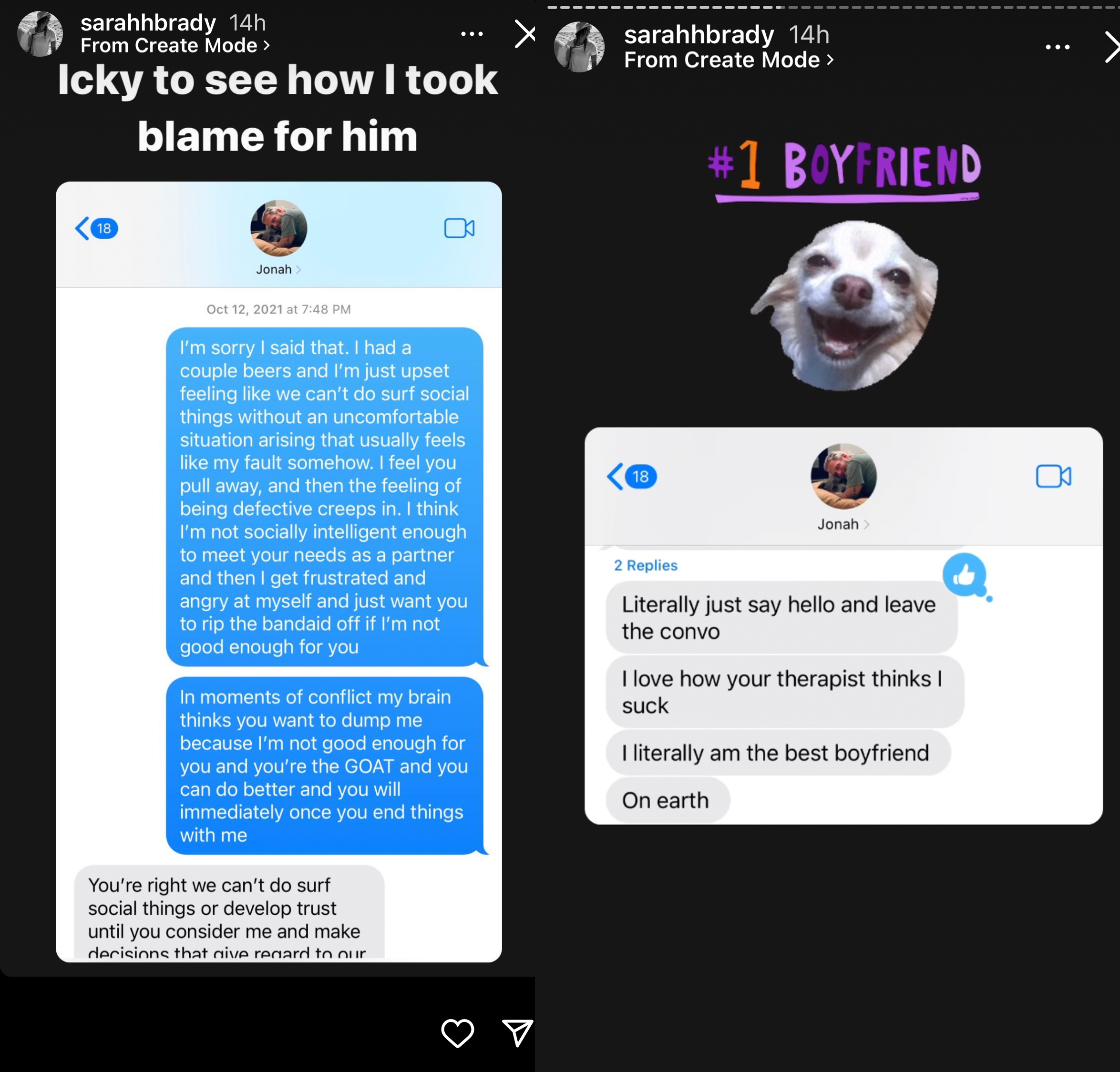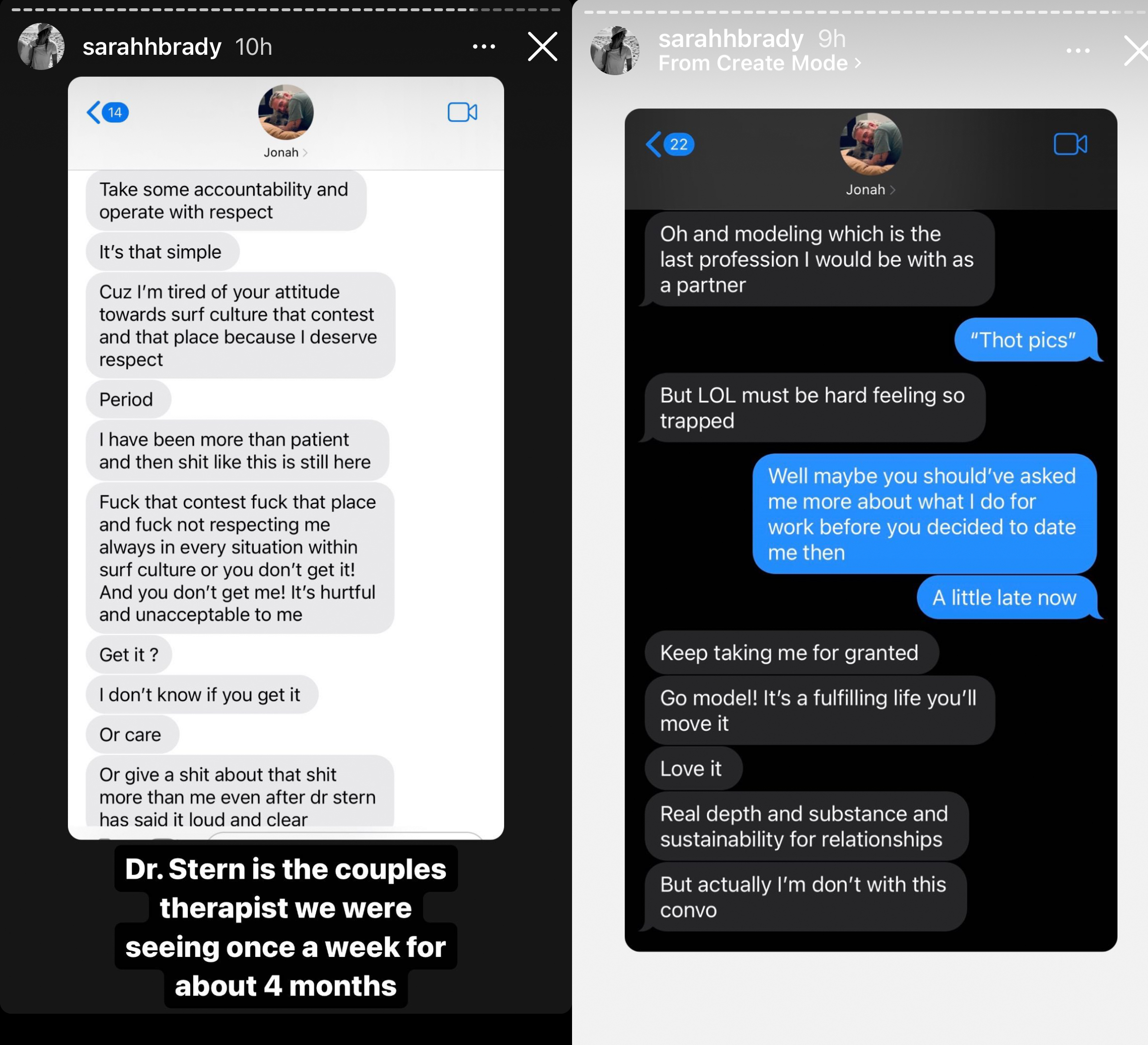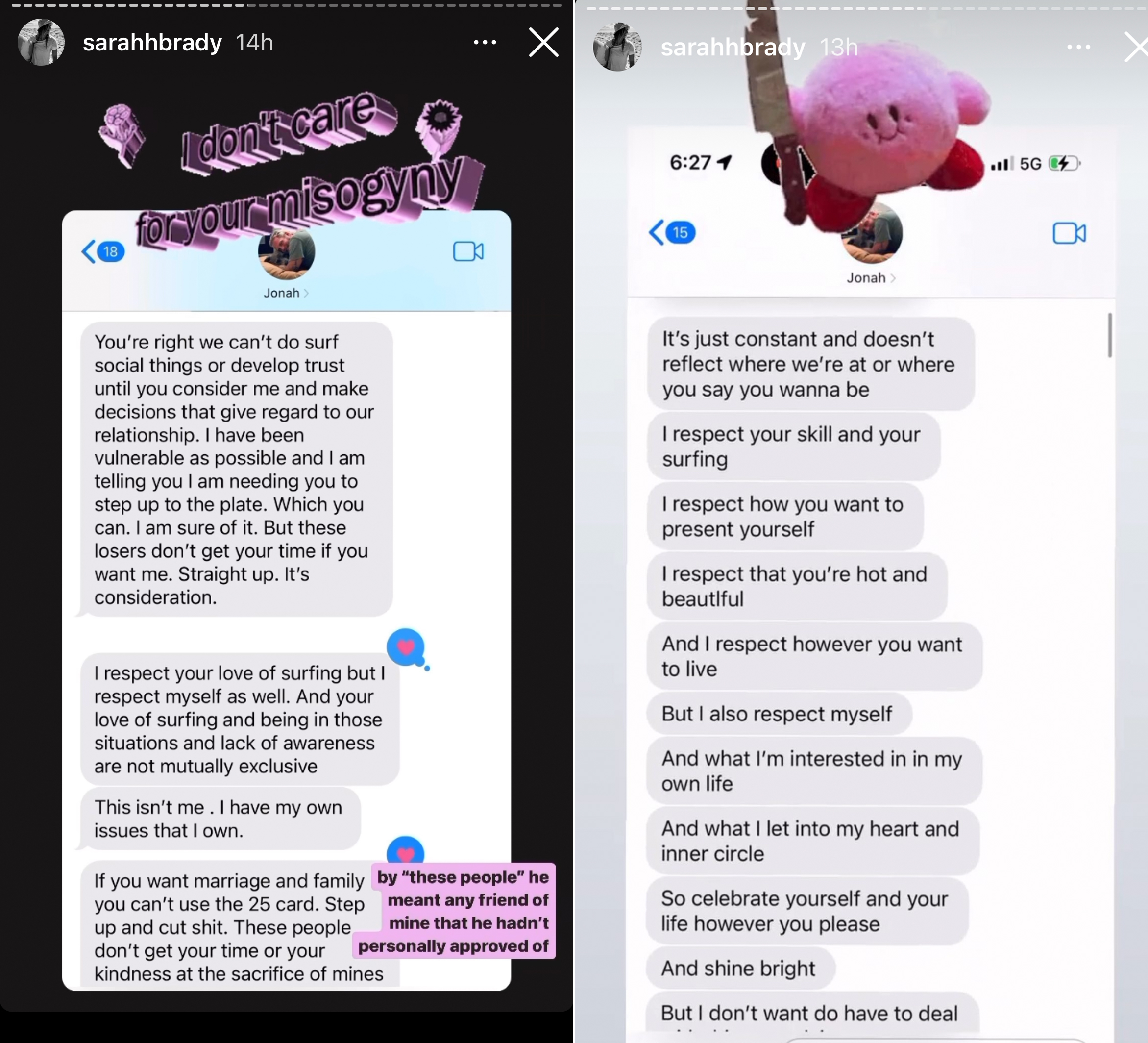 Things are not looking good for Jonah. At this time, he hasn't responded to the allegations. Reactions, Perezcious readers? Let us know in the comments below.
[Image via MEGA/WENN]
Related Posts
CLICK HERE TO COMMENT
Jul 08, 2023 12:47pm PDT