Apparently, even Andrea Bocelli keeps up with the Kardashian family and their drama!
Throughout the latest season of The Kardashians, Kourtney Kardashian has been upset with Kim Kardashian over her decision to partner with Dolce & Gabbana shortly after the 44-year-old POOSH founder got married to Travis Barker. She accused the 42-year-old's Milan Fashion Week collaboration with the brand of "copying" her wedding vibes. She said in a previous episode:
"It's almost like a greediness. If I look at the photos from the fashion show, half of the time I'm like, 'Is this my wedding?' There's no decency to ask me how I felt about her doing this so closely to my wedding. No one just gives a f**k about anything. It's like the Wild West—like, 'We're just gonna take and do as we want. Whatever's best for us.'"
Related: Kim Has A 'Crush' — But Tom Brady Talked To A LOT Of Women At That Party!
However, Kimmy Kakes was not standing for the accusations. And if there's one thing we know about the momma of four, she will pull out receipts! She said in a confessional that her big sister had taken certain ideas from her own 2014 wedding with Kanye West, including having Andrea perform:
"I got married in Italy. Am I saying you copied me by getting married in Italy? Who performed at my wedding? Andrea Bocelli. Who performed at Kourtney's wedding? Andrea Bocelli. You stole my f**king wedding country and my wedding performer. Andrea Bocelli is my favorite male singer of all time, but I'm copying her dolce vita lifestyle? OK."
It's been a whole mess. But thankfully, they seem to call a truce for now. After finding himself in the middle of the girls' feud, Andrea decided to react to the whole situation! But don't expect him to choose sides – he's not pulling a Bethenny Frankel! The 64-year-old singer took to Instagram Stories on Friday to say:
"Dear @kimkardashian and @kourtneykardash, I'm so flattered that you both love my voice and I'll always be happy to sing to you. But know that there's a younger and far more helpful artist @matteobocelli who your mother @krisjenner knows very well. See you soon in Tuscany!"
FYI, Matteo Bocelli also performed with his dad at Kourtney and Travis' wedding last year. He also shared the same clip from the reality show, telling Kris Jenner to "hit me up" along with a laughing face emoji. Basically, these two want to make it clear to Kim and Kourt that there is no need to fight over Andrea! Lolz! See his response to the feud drama (below):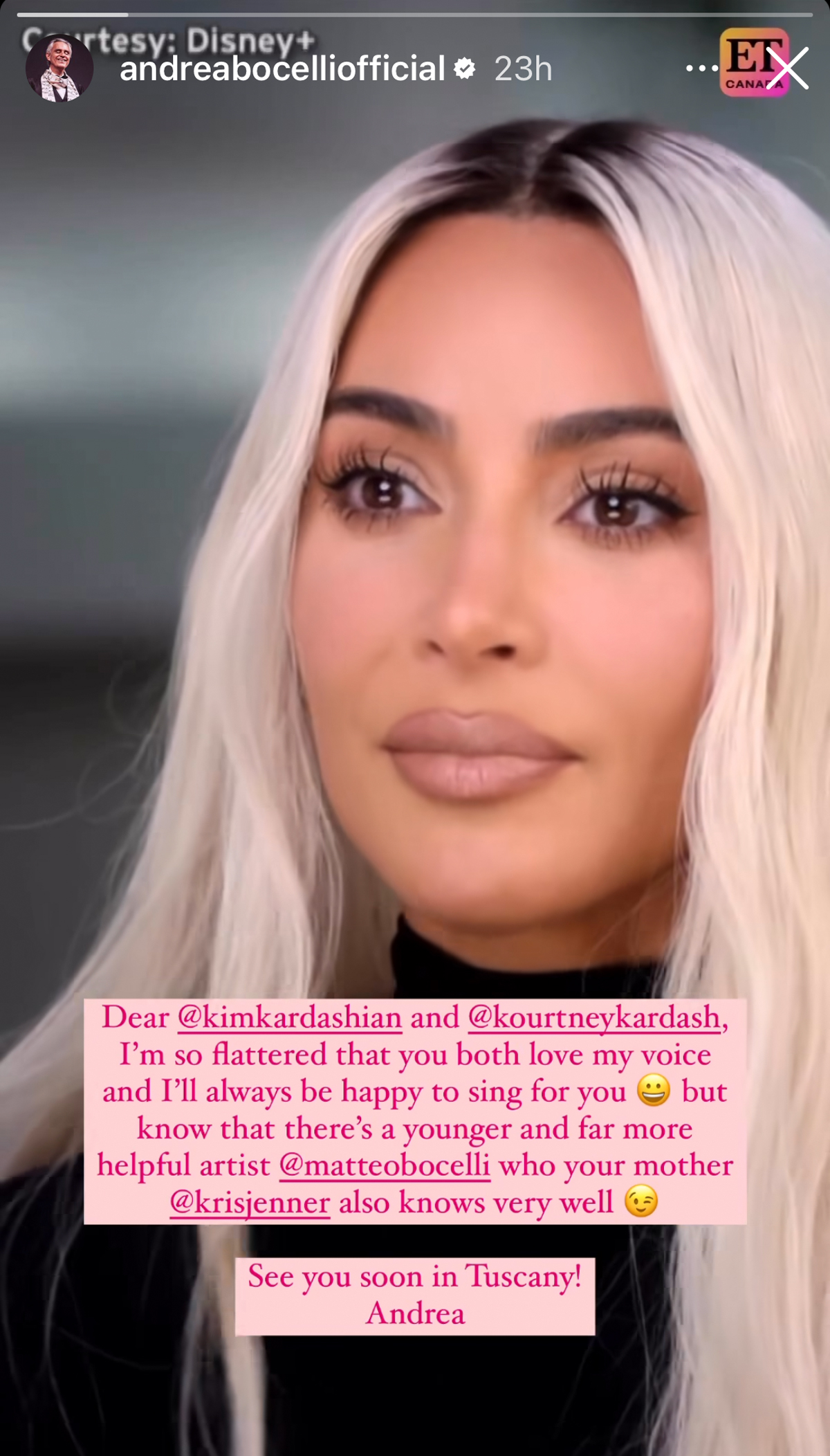 Reactions, Perezcious readers? Let us know in the comments!
[Image via The Kardashians/Hulu, MEGA/WENN]
Related Posts
CLICK HERE TO COMMENT
Jul 08, 2023 14:41pm PDT