Kim Kardashian and Kourtney Kardashian are just going to have to agree to disagree on some of these Italian wedding woes…
Thursday's brand-new episode of The Kardashians on Hulu brought the famous sisters to a resolution (well, kind of) on their previously-endless spat over Kourt's Italian wedding last May and Kim's supposed copy-cat fashion show in Milan a few months later.
As Perezcious readers will no doubt recall, we've been covering all the drama around these two reality TV vets and their super contentious spat. And now, it would seem that's all water under the bridge. Er, uh, we hope?!
Related: Kim Breaks Down In Tears Begging For The Kanye She Once Knew To Come Back
On Thursday's new Hulu ep, the SKIMS mogul and the Lemme lead finally got to sit down face-to-face and have it out about their Dolce & Gabbana-based feud.
Kim kicked off the convo, first explaining to the Poosh founder that the initial plan was for SKIMS to collaborate with D&G for a fashion show. However, that quickly changed, as the 42-year-old explained to her older sister:
"Then I called you. I said, 'SKIMS is not doing it,' because we couldn't get it together that quickly. I kept saying, 'I don't want to do this because it's so close to Kourtney's wedding — I want it to be completely different.'"
Without SKIMS in the collaboration, D&G's designers told Kim they were going to go ahead with the Milan Fashion Week show — but only with archive-inspired looks from their own fashion house alone.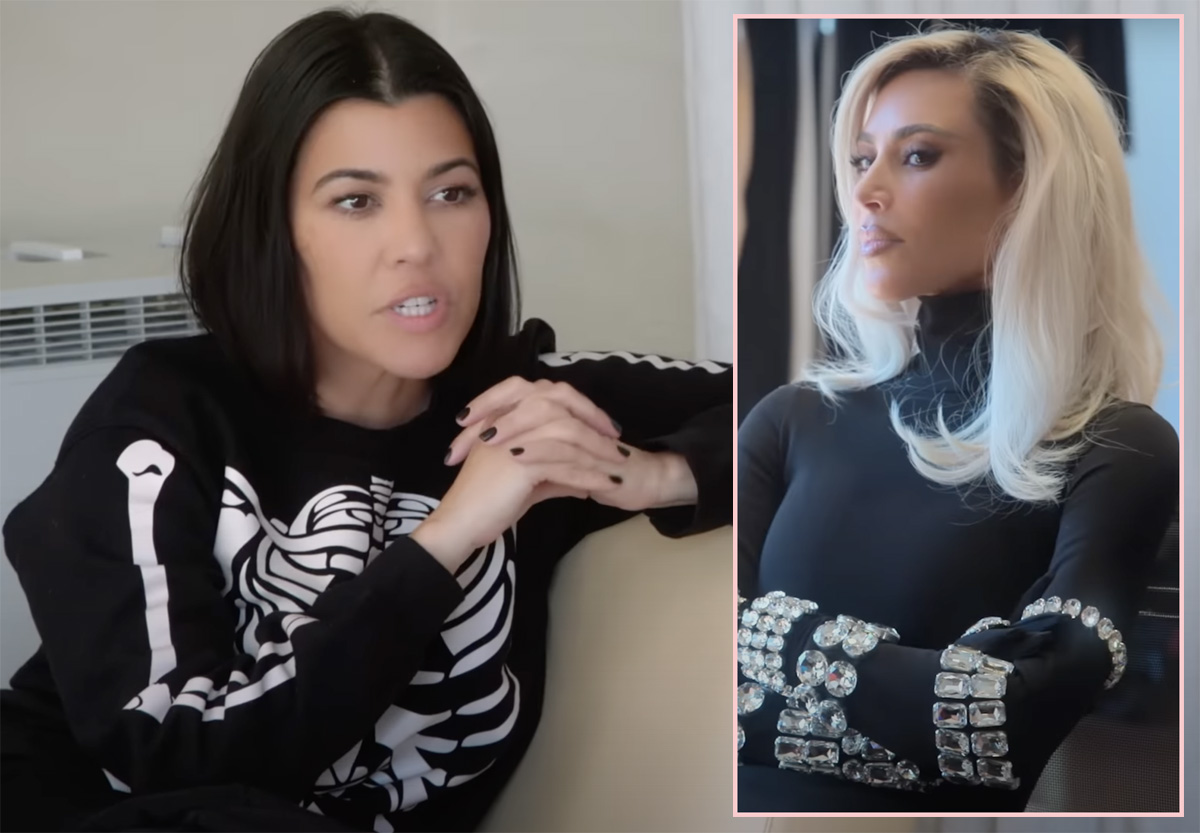 Of course, those archived looks ended up being remarkably similar to the vibe Kourt gave off in her May 2022 wedding to Travis Barker in Portofino, Italy. And that has been what's eaten at Kourtney this entire time!!
The newly-pregnant mom explained her issue with it to Kim:
"You weren't like, 'hey, I'd love to know how you feel about this.' You called me after the deal was done."
In return, Kim pointed out that younger sister Kylie Jenner had also recently done a D&G show. And while it wasn't as closely related to Kourt's nuptials look as the event Kim came up with, Kylie's was a topic of note for the whole fam, too.
But for whatever reason, Kim complained privately, Kourtney only came after her and not Kylie. Speaking to confessional cameras, the Selfish author said:
"It's something with me, and I cannot figure out fully what it is."
Hmmm…
Kim also got frustrated later in the convo when she pointed out how she was actually the first one to get married in Italy. And she was the first one to hire Andrea Bocelli to sing at her wedding!! In a more contentious confessional clip, Kim remarked on the similarities between her 2014 wedding to now-ex-husband Kanye West in Florence, and wondered whether it was actually Kourt who ripped off that vibe:
"I got married in Italy. Am I saying you copied me by getting married in Italy? Who performed at my wedding? Andrea Bocelli. Who performed at Kourtney's wedding? Andrea Bocelli."
Oof! And she wasn't done there! Kim then added:
"You stole my f**king wedding country and my wedding performer. Andrea Bocelli is my favorite male singer of all time, but I'm copying her dolce vida lifestyle? OK."
Damn!!
Kim also went on to add that she first did shoots with D&G's archived '90s looks back in 2017. And those looks were in line with the very same vibe Kourtney chose for her wedding last May. While the mom of four claimed that those vintage fashion styles fit the "mood board" of her wedding to the Blink-182 drummer, Kim replied that "they [D&G] hadn't done them since [her 2017 shoot], until your wedding."
And that's not a bad point?! If the copycat accusations go one way, it's only fair they go the other, too, right?!
Related: Kim Called Out For Photoshopping Pics AGAIN — And It's Pretty Bad!
Even while trying to settle their differences, Kim still managed to get a few digs in at Kourtney. At one point during their conversation, the SKKN By Kim exec claimed that there was so much D&G at Kravis' wedding that "everyone thought it was so sponsored."
Kourtney didn't care for that characterization, replying:
"I don't care what anyone thinks. I didn't make that choice for my wedding because of money."
At the end of it all, though, Kim actually tried to acquiesce to some of Kourtney's concerns. And Kim seemed to actually understand the fact that her older sister was most upset about how "no one called" her to let her know about Kim's fashion week show running so soon (and so similarly) after the wedding.
Late in the convo, Kim finally conceded:
"I would be upset, I get it. I feel you."
Progress!
In a confessional, Kourtney went on to explain why the issue has been so important to her:
"When I do have things that are mine, I get protective over what feels like it's part of me. There's also something about being able to be content and happy with what you have without feeling like you need more."
Ultimately, the fashion fracas is only part of the issue here. By the end of their sit-down, both Kourt and Kim reminisced on how they used to be so close. Only in recent years has their bond been fractured a bit by life and emotional distance.
Related: More Evidence Kim Kardashian & Tom Brady Are Secretly Dating??
Kourtney was the first one who tried to mend the fences on that point, telling her younger sister:
"We're in different places — that doesn't mean we can't do things together. I used to be mad or mean when I was hurt, but now I feel like I avoid."
And Kim came back with an apology for the entire situation:
"I'm happy for the experience, but I'm sad and sorry that the experience ever hurt you."
So, there you go. That's probably as made up as this thing is ever going to get. Ya know? What do U make of this resolution, Perezcious readers?! Are things all good between the sisters now, or not?? Sound OFF with your thoughts down in the comments (below)…
[Image via Hulu/YouTube]
Related Posts
CLICK HERE TO COMMENT
Jul 06, 2023 08:54am PDT